UPDATE 2: Updated PDF SKM_C454e17090617260
UPDATE: Bump-a-Friend Day is next Sunday! It will occur rain or shine. Please remember that this is a picnic in the park, and we will be on a grassy field. To prepare for the day, we have created a list of items for you to bring to enhance your experience at the picnic.
Location: Burnaby Confederation Park, Picnic Area #1. See map insert.
Items to bring for the Day:
• Lawn chair/tarp/blanket
• One (new) box of Kleenex for the mystery game
• Own beverages (one bottle water will be provided to each participant)
• Sun screen lotion
• Sunglasses/hat/umbrella
• Camera/phone for photo contest
• Appetite
Schedule for the Day:
10 am – 11:30 am: Joint worship at BPGC
11:30 am – 12:45 pm: Lunch at Confederation Park
12:45 pm – 1 pm: Clean up
1 pm – 3 pm: Bubble Soccer
3 pm – 3:30 pm: Mystery game
3:30 pm – 4 pm: Closing & clean up
4:30 pm – 8 pm: (Optional) Fellowship at the park
A couple of house cleaning items:
Please head to the park immediately after the service as your food will be waiting for you. We will start bubble soccer promptly at 1 pm, as we have booked it only from 1 pm – 3 pm.
a. You can pick up your lunches by fellowship. If you have signed up as a group, your lunch will be grouped with the Reference Contact on the food spreadsheet. Please check the spreadsheet for more information.
A team schedule is posted here. Check which team you are on if you have signed up for bubble soccer. The best team will be determined based on the following rules.
We have a photo contest! Take lots of pictures and send your best photo to bpgcbump@gmail.com at the end of the day. Prizes will be awarded for the best photo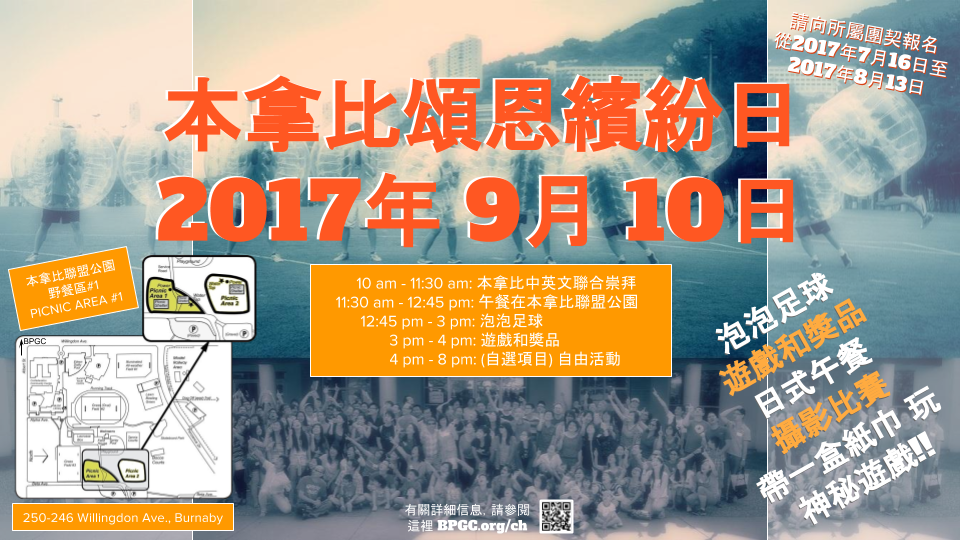 是本立比頌恩堂的家庭日,同享團契生活丶美味午餐丶泡泡足球比賽及更多精彩項目。你可以拍攝現場花絮參加攝影比賽,又可帶備一合紙巾參加好玩遊戲。請於七月十六日至八月十三日期間,向你所屬團契團長報名。如有查詢,歡迎聯絡陳英龍弟兄。